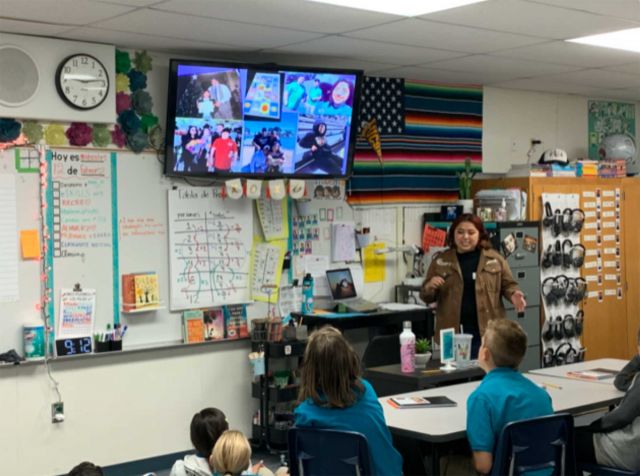 About Skills
SKILLS was created by an interdisciplinary team of UCSB faculty in order to advance educational justice for racially, linguistically, and socioeconomically minoritized K-16 students. SKILLS seeks to remedy systemic inequities in access to higher education by leveraging young people's linguistic and cultural expertise to advance their academic goals and aspirations. We are the only linguistics curriculum in California's high schools.
We are Committed to the Following Principles
Culturally sustaining pedagogies are needed in order to support students academically in ways that are personally meaningful to them.
Young people must be recognized as experts on their own language and culture and as active producers and not only consumers of knowledge.
Students have the right to learn about language in their own and other communities, including both how it has been used as a tool for perpetuating inequality and how it can be used to advance social justice.
University faculty have a responsibility to break down the walls between universities and schools by creating collaborative partnerships between UCSB faculty, graduate students and undergraduates alongside K-16 students and their teachers and mentors.
Every year, SKILLS teams collaboratively create and implement an innovative 20-week curriculum on language and social justice that focuses on the needs of each partner classroom and the expertise of team members. SKILLS combines engagement with high-level academic concepts and ideas, stimulating discussions and activities on real-world issues, hands-on research experience and activism opportunities, and intensive academic mentorship and support. SKILLS puts students at the center of linguistic discovery by guiding them through the process of carrying out original research and activist projects on language, power, and identity in their lives and communities.
Partnerships and Supporters
Previous School / Program Partnerships

Adelante Dual-Language Charter School
Isla Vista Teen Center
Chumash Carpinteria High School and Carpinteria Unified School District
Mixteco Indígena Community Organizing Project (MICOP)
United Way Fun in the Sun Program
Upward Bound Saturday College
UCSB |Santa Barbara, Dos Pueblos, San Marcos High School
Santa Barbara City College

Previous and Current Supporters

Associate Vice Chancellor for Diversity, Equity, and Academic Policy, UCSB
Associated Students Community Affairs Board and SIRRC, UCSB
Center for California Languages and Cultures, UCSB
Chicano Studies Institute, UCSB | Department of Linguistics, UCSB
Office of Education Partnerships, UCSB
Gevirtz Graduate School of Education, UCSB
Graduate Division, Crossroads Program, UCSB
Institute for Social, Behavioral, and Economic Research, UCSB
Interdisciplinary Humanities Center, UCSB/ MultiCultural Center, UCSB
UC/ACCORD
Verizon Foundation
Vice Chancellor for Student Affairs, UCSB
Vox California Student Organization, UCSB